Hours
Car Care
7:30 AM
-
6:00 PM
7:30 AM
-
6:00 PM
7:30 AM
-
6:00 PM
7:30 AM
-
6:00 PM
7:30 AM
-
6:00 PM
8:00 AM
-
4:00 PM
Closed Today
Car Care
Day of the Week
Hours
Monday

7:30 AM

-

6:00 PM

Tuesday

7:30 AM

-

6:00 PM

Wednesday

7:30 AM

-

6:00 PM

Thursday

7:30 AM

-

6:00 PM

Friday

7:30 AM

-

6:00 PM

Saturday

8:00 AM

-

4:00 PM

Sunday
Closed
Insurance
8:30 AM
-
6:00 PM
8:30 AM
-
6:00 PM
8:30 AM
-
6:00 PM
8:30 AM
-
6:00 PM
8:30 AM
-
6:00 PM
9:00 AM
-
1:00 PM
Closed Today
Insurance
Day of the Week
Hours
Monday

8:30 AM

-

6:00 PM

Tuesday

8:30 AM

-

6:00 PM

Wednesday

8:30 AM

-

6:00 PM

Thursday

8:30 AM

-

6:00 PM

Friday

8:30 AM

-

6:00 PM

Saturday

9:00 AM

-

1:00 PM

Sunday
Closed
Travel
8:30 AM
-
6:00 PM
8:30 AM
-
6:00 PM
8:30 AM
-
6:00 PM
8:30 AM
-
6:00 PM
8:30 AM
-
6:00 PM
9:00 AM
-
1:00 PM
Closed Today
Travel
Day of the Week
Hours
Monday

8:30 AM

-

6:00 PM

Tuesday

8:30 AM

-

6:00 PM

Wednesday

8:30 AM

-

6:00 PM

Thursday

8:30 AM

-

6:00 PM

Friday

8:30 AM

-

6:00 PM

Saturday

9:00 AM

-

1:00 PM

Sunday
Closed
Featured Products
Join AAA for trusted roadside assistance and countless exclusive member benefits.

Renewing your membership is just a few clicks away. Don't let your coverage lapse!

Give the gift of safety and savings that last an entire year with a AAA Membership.
Services at AAA - Summerville in Summerville, SC
Car Care
Battery Testing
Brake Service
Preventative Maintenance
Tire Repair
Tune Up
Oil Change
Wheel Alignment
Insurance
Get a Quote
Auto Insurance
Home Insurance
Business Insurance
Inland Flood
Life Insurance
Umbrella Policies
Travel
Air, Car & Hotel Reservations
Cruise Booking
Maps, TripTiks & TourBooks
Passport Photos
Theme Park Tickets
Travel Insurance
Vacation Packages
What's Happening at AAA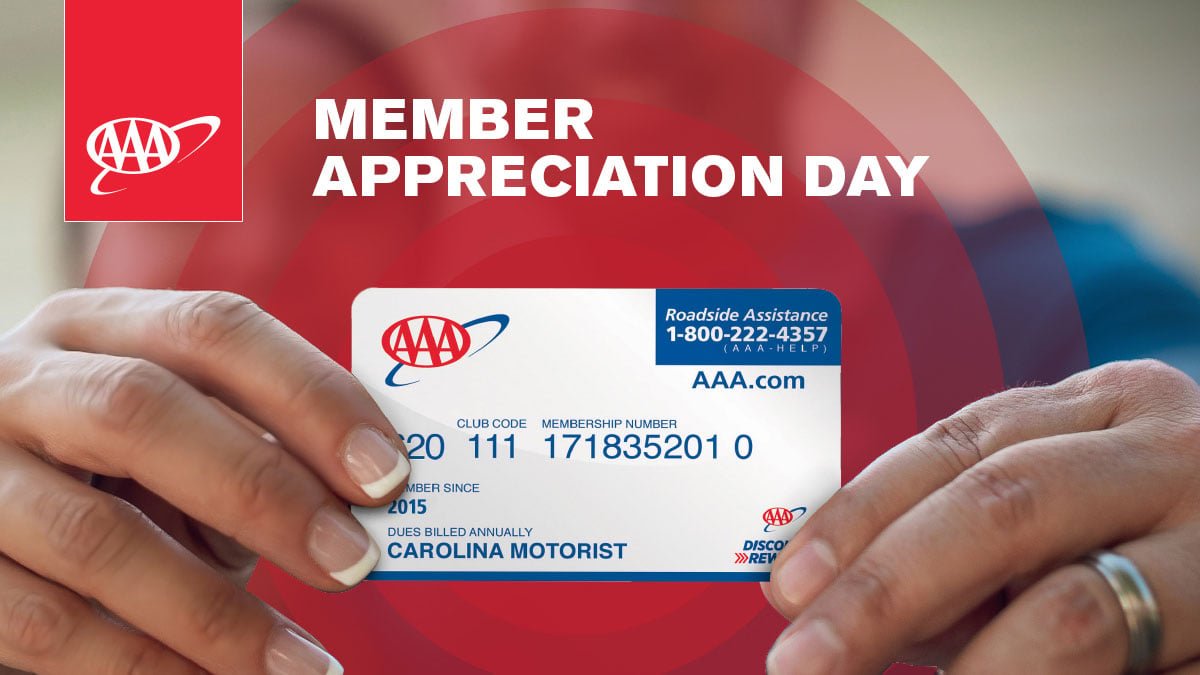 Member Appreciation Day
As a thank you for being a AAA Carolinas Member, please join us at AAA Summerville for a Member Appreciation Day! We will have free food, prizes, and more! For more information, call (843) 419-1430.
About AAA - Summerville
The AAA - Summerville branch offers auto repair, travel agency, and insurance agency services for the Summerville community. The mechanics at AAA Car Care provide everything from wheel alignments and oil changes to engine diagnostic and preventative maintenance. The travel agents at AAA Travel handle TripTiks, hotel and flight booking, theme park tickets and even full-service vacation planning. Don't forget to talk to your local AAA Insurance expert for peace of mind on auto insurance, home insurance and more!
AAA.com
Everything that you love about AAA has been condensed into a beautiful, delightfully easy-to-use and extremely powerful interface all within the palm of your hand. It is AAA in your pocket.